What's In The Packet?
vegan. gluten free. 100% natural. organic ingredients.
no preservatives or additives. artisanal. hand blended. hand-packaged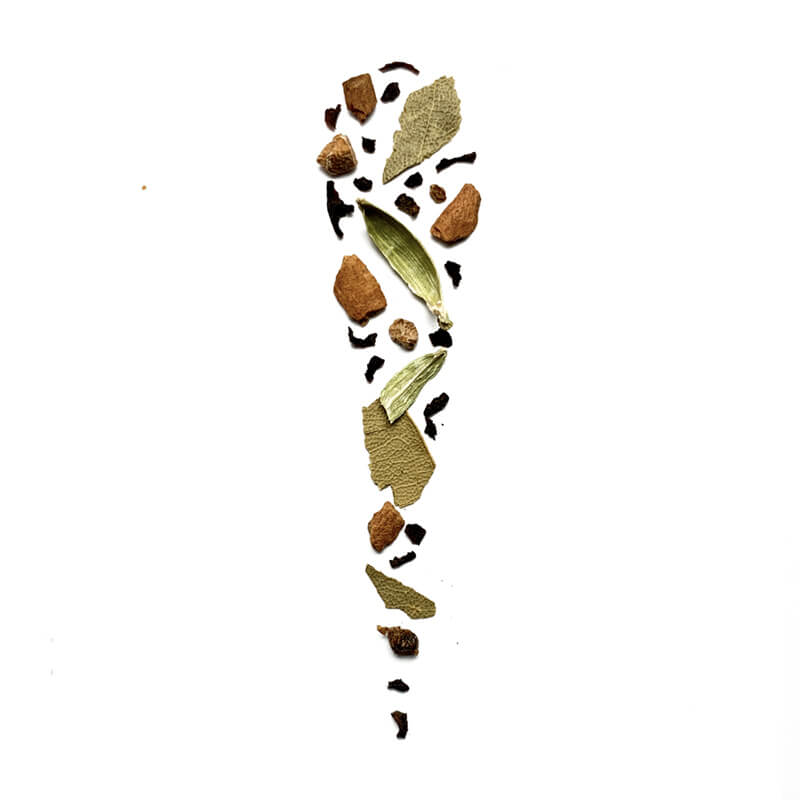 Experience
The traditional way – hot off the stove, with the aromatic spices rising to greet you with each sip. In the midst of summer, iced Bangladeshi Chai is an undeniably tasty treat. Purists can delight in this spiced wonder in its natural state, while those who are after a traditional experience might like to add a touch of sugar or a generous helping of it, as the Bangladeshis do! Any sweetener works to lift the flavour of the spices, so feel free to go with your favourite.
Serving Bangladeshi Chai in glass cups will allow you to recreate the joyous atmosphere of the streets of Bangladesh. Locals also love using decorative porcelain teacups or fine china when serving family and friends at home, so if you have these on hand, they will beautifully set the scene. There's also something to be said for wrapping your hands around a warm mug of chai, so if you're after those cosy vibes, feel free to serve your Bangladeshi Chai in your favourite mug.
With so many subtle notes of flavour, Bangladeshi Chai is a treat on its own. For a traditional experience, however, you can't beat the local treats. Look for Bangladesh's famous chanachur (Bombay mix), muri makha (puffed rice mix), and other deep-fried snacks like samosas and pakora. If you're feeling adventurous, try traditional rice crepes (pithas), papor (Bengali papadams), nimki (crispy deep-fried bread), or puri (puffed deep-fried bread). For lovers of all things sweet, the crunchy goodness of Bangladesh's fried dough sticks (murali) and rice puffs (murki) will hit the spot. If these traditional treats aren't available, your favourite bickie will match beautifully.
Bangladeshi Chai is so ingrained in the local culture that you can tell the time by noting when the magical beverage flows. Tea is served all throughout the day and night. However, an evening sip is a commitment to being awake well into the night!
High
For a shot of vitality
Brewing Guide
Bring 1 cup of water to a rolling boil in a saucepan. Add 1 tsp of tea. Simmer on low heat for 3 – 5 min. Strain into cup. Sweeten to taste.
Brew it the traditional Bangladeshi way
Bring freshly drawn ambient water to a rolling boil in a saucepan. Add 1 tsp of tea per cup. Simmer on low heat for 3 – 5 min. Strain into a teapot or cup. Sweeten to taste. If sweetening with sugar, add it while the tea is simmering on the stovetop for greater depth of flavour. Best served in ceramic cups. If sharing, impress guests by serving with your finest china on a decorative tea tray. Enjoy on its own or with traditional savoury or sweet snacks, such as samosa, pakora or gulab jamun.
We Think You'll Also Enjoy...